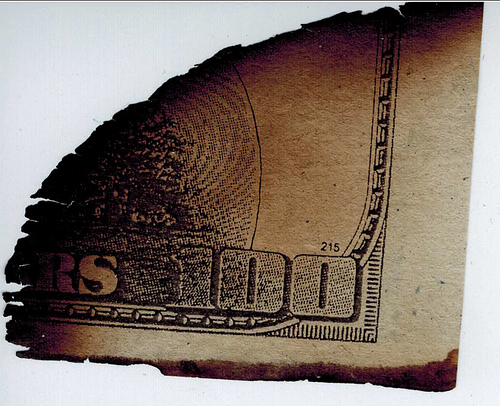 Counterfeit $100 bill
"Your manuscript is both good and original, but the part that is good is not original, and the part that is original is not good."
–  Samuel Johnson (quoted in The Book of Insults by Nancy McPhee)
Counterfeits In Zambia
An issue of Reader's Digest once contained this interesting story about counterfeiting in Zambia..
If you're planning to vacation in Zambia, beware of the street-corner "emerald vendors." And if you're driving, be prepared for some confusion in the streets, owing to stolen traffic lights. The two warnings are related: The traffic light thieves are selling green glass chips to unsuspecting tourists who think they're getting bargain-basement emeralds.
This reminds me a lot of the "wild west" of online content marketing.
The Current Content Marketing Landscape
It used to be that an article with solid content was enough to get noticed and to see traction. That's not true anymore.  There's too much content.
There are too many copycats who are just borrowing content from one place and regurgitating it in another.
Content has become a commodity. 
So the question is this…
How does someone elevate their content above all the generic, regurgitated content that's online?
The 2 Ways To Make Your Content Marketing Stand Out
I've been thinking a lot about that question and the two ways to do that are:
Think of the experts who have content that stands out from all the rest.
What's the difference between their content and others?
Personality and perspective.  That's what draws you to them.
You like them and you like their perspective.
And because you like them and their views, you share what they write and keep coming back for more!
The key for you to go to the next level is to infuse your content with personality and perspective.
I want to encourage you, and give you permission, to let your personality and unique perspective shine when you write your content.
It's the only way to stand out.
Photo by Travis Goodspeed
Related articles
[author] [author_image timthumb='on']http://recessionsolution.com/wp-content/uploads/2011/12/photo1.jpg[/author_image] [author_info]Scott Aughtmon is a "business recession solution expert", a "content creation expert" , and a speaker. He's spent over 12 years studying effective marketing and business methods (both online and offline).
You can read some of his content marketing articles for "Content Marketing Institute" here.
He's the author of two e-books called "How Your Business Can Survive And Prosper In A Recession" in which he interviewed 38 top business, marketing and sales experts and got them toreveal their methods to help business owners survive and prosper in a recession. Scott has also been interviewed on radio shows and asked to share his wisdom to help business owners survive and prosper in a recession.  Read more of Scott's insights on his blog. Follow Scott on Twitter @rampbusinesses or on Google Plus at +scott aughtmon, +content creation methods, or +recessionsolution.com [/author_info] [/author]