If You Doubt the Power of Content Marketing, You'll Want to Hear This Story
If you have ever believed that all of the talk about content marketing is "just a bunch of hype," then you will want to read this post.
(If you've had to defend content marketing to your peers or boss, then you will also want to read this post!)
Because today, I am about to reveal to you the crazy story of how content marketing opened up an opportunity for me that I never would have imagined when I started this path 18 years ago.
And within my story, I'll reveal to you an often ignored power that content marketing has.
But first, I have some exciting news I'd like to share with you…
My Big Announcement
I've been waiting to announce this until it was officially approved, and I just received an email yesterday that confirmed that I have been approved, so I am excited to announce…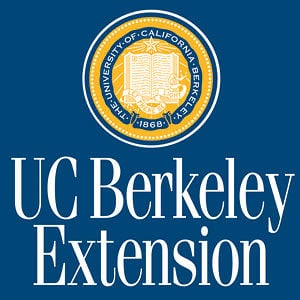 I will be teaching an "Intro to Marketing" class during this upcoming summer session for UC Berkeley Extension this Summer!
How did I get this opportunity?
How did content marketing have a part?
Well, it all began sort of by accident. Let me explain…
How I Stumbled into Marketing
It's a long story, but I sort of "accidentally" began delving into, and studying, marketing.
It all began when I was trying to figure out how to drive website traffic to a website I had created in a small, music niche back in 1999.
It was through that search that I began on my own self-study of marketing and discovered that I not only found it interesting (when I couldn't care less about it before), but I was it made sense to me and I was good at it.
The Crazy Zig-Zag Path to Where I Am Today
From that discovery of marketing, I began to take these steps to break into the marketing arena and this is the crazy, zig-zag path that I took:
1. In 2002, when the recession hit after September 11th, I put out an ebook called How Your Business Can Survive And Prosper In A Recession in which I interviewed 20 top business, marketing, and sales experts and got them to reveal their methods to help business owners survive and prosper in a recession. (I also wrote the introduction and conclusion.)
2. That book led to some interviews with a couple radio stations and online interviews. (Before podcasts were invented.)
3. In 2003, I was hired to help with online and offline marketing for a non-profit on the East Coast.
4. When my family and I came back to Silicon Valley in 2004, I started blogging about the recession, marketing, business, etc.
5. In 2008, when the most recent recession hit, I put out a second volume of my ebook, How Your Business Can Survive And Prosper In A Recession in which I interviewed 18 more business, marketing and sales experts and got them to also reveal their methods to help business owners survive and prosper in a recession.
6. It was at this point that I then began offering free business/marketing consulting to friends and/or people who contacted me at my website. (As I began doing this, I was glad to hear that the people I coached and consulted with were very happy with the results.)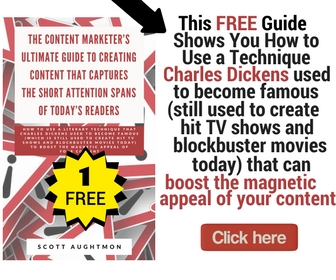 7. In 2010, I noticed that content marketing was becoming popular and realized I had been doing it from the very beginning without even realizing it.
So I submitted a blog post to ContentMarketingInstitute.com (CMI), which is the top website in the content marketing arena, and my post was accepted.
8. I then began writing for CMI regularly and I also began focusing on blogging about content marketing on my site RecessionSolution.com.
9. I also began writing for other marketing websites and began doing some paid writing and consulting for some websites and clients. Throughout this time, I had the opportunity to help all sorts of people from small business owners to corporate executives. (I later began doing some paid consulting jobs.)
10. In 2012, I began a website for local Bay Area business owners called BayBusinessHelp.com.
I decided to curate content for the site, write a post once a month, and I also asked three other local marketing experts to contribute once a month.
11. In 2012, I was thinking about how all the content that people love seems to have common themes, regardless of whether it is on TV, in movies, in books, or even a non-fiction blog post.
After thinking about all these content themes, I decided to try to come up with a list all of the types of content that people crave.
I looked at my final list and thought it was a really interesting list. I believed it could really be helpful to people, so I decided to get an infographic of the list made.
I contacted CMI to see if they would be interested in using it as a guest blog post and they said they would.
I really thought that what I had come up with was an important list, but I still wasn't sure how the CMI audience would respond.
The infographic and short blog post that I wrote originally appeared on CMI back on June 5, 2012. It was called "21 Types of Content We All Crave."
As soon as it appeared, people began commenting and sharing the post. And they kept commenting and sharing it and commenting and sharing it.
It ended up being tweeted well over 800 times and it received 102 comments before the comments were finally closed.
The founder of CMI, Joe Pulizzi, later gave me a testimonial that said that my post was one CMI's most popular posts of the year. I couldn't believe the response!
12. In 2012, I had the opportunity to teach some workshops on social media as a part of workshops offered to the staff of Palo Alto Veterans Hospital. I later was asked to teach an additional workshop on what I call The 5 Keys to Success in Life. The workshops went really well. (In later years, I have spoken for other groups such as writer's groups and for B2B content marketers.)
13. Over the last seven years of writing about content marketing, I've ended up discovering the oldest known examples of content marketing. (Here's one example: "4 Illuminating Lessons From One of History's Most Inventive Content Marketers.")
14. In 2015, I took the blog posts that I had written about content marketing from my own site, CMI, and other sites and I compiled them into a book that I released as my first Kindle book in January 2015. It's called 51 Content Marketing Hacks.
15. The book ended up getting great reviews from top experts in the marketing and content marketing arena. And because of that book, I was interviewed on several podcasts to share my content marketing "hacks", etc.
16. In 2016, 51 Content Marketing Hacks was one of the books that was nominated for Smallbiztrends.com's 2016 "Small Business Book Awards."
17. At the end of last year, I saw that a friend was teaching a course for UC Berkeley Extension and I asked him how he got that opportunity.
He explained the process that he went through and said the he now had a connection there. And he said that if I thought there was a course I could teach, then to let him know and he'd connect me with his contact there.
18. I submitted my name and some ideas and I found out that they were looking for an instructor for the "Intro to Marketing" course, which I could easily teach after my 18 years of experience in marketing. (I'll hopefully teach a content marketing course and a smaller course for them also.)
19. I went through the formal application process to teach a class for them, got recommendations, etc.
20. I was informally accepted in January and began the process of choosing the textbook for the class, etc.
21. I just found out via email yesterday (3/15/17) that I have been officially accepted to teach the class! 
WHO, WHAT, WHERE, WHEN, HOW
So I'll be teaching an "Intro to Marketing" class at the UC Berkeley Extension in Belmont, CA on Tuesday evenings beginning in June.
When more details are locked in and the class begins being offered on the website, I'll post more details.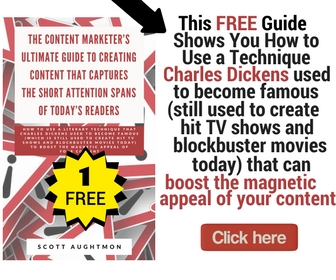 I'll also post a link and ask that you share it with any Bay Area business people who want to gain a really unique and practical understanding of marketing.
Teaching courses is not a high paying job, but there's an even greater benefit than the pay that I am receiving.
This opportunity will also help "position" me even better in the marketing arena, because I'll be able to say that I have taught marketing for UC Berkeley.
And that leads me to content marketing's part in this whole story…
Content Marketing's Underlying Role Within My Story
Some of you who were paying close attention (Good job!) might have already noticed the underlying role that content marketing played in my story, but let me point it out so that there's no chance of anyone missing it.
Content marketing was the underlying stream that I rode on throughout this whole journey:
It all began with a book How Your Business Can Survive And Prosper In A Recession. (Book = A form of content marketing)
That book led to my first interviews and my first marketing-related job. (Interviews = A form of content marketing)
By blogging about the recession, marketing, and business I proved that I had the knowledge and understanding that could be helpful to people. And it was through blogging that people began to know, like, and trust me. (Blogging = A form of content marketing)
Blogging created a platform and a place which allowed me to attract my first clients – first free ones and later paying ones. (Blogging = A form of content marketing)
After I realized I had been using content marketing and didn't even know it, I began guest posting on ContentMarketingInstitute.com, which increased my position and attracted even more opportunities for me to guest post for other sites. And all of this helped me to attract higher paying clients. (Guest Blogging = A form of content marketing)
I created BayBusinessHelp.com as a "one-stop hub of information for business owners in the San Francisco Bay Area." I did this for two reasons: 1) To help local business owners 2) Create a platform for me and other local experts to share our knowledge and, in turn, attract some new clients.  (Content Curation and Creation = A form of content marketing)
I then came up with my concept of the "21 Types of Content We Crave," had it created into an infographic and submitted it to CMI. I later added an additional 10 types of content we crave. You can see them here: "31 Types of Content We Crave."  (Infographic + Guest Blogging = A form of content marketing)
I then taught those workshops and later spoke to other groups. (Speaking = A form of content marketing)
I continued to establish my expertise in the content marketing arena by guest posting on various sites and also by discovering the oldest known content marketing examples.  (Guest Blogging + Authoritative Content = A form of content marketing)
I compiled all of my personal blog posts and guest posts and released 51 Content Marketing Hacks. (Book = A form of content marketing)
That book brought in great endorsements, reviews, and an award nomination. (User Generated Content = A form of content marketing)
And now I am getting to teach a course for UC Berkeley Extension. (Speaking = A form of content marketing)
Do you see it now?
My whole journey was a journey that harnessed the power of content marketing! I am walking, talking proof that content marketing works!
But I don't want you to leave today without this last important point to take with you…
Content Marketing's Most Ignored Power
Content marketing is often seen as a way to sell products and/or services. And it is a powerful tool that can help you do that.
But content marketing's most ignored power is this: It's power to sell YOU!
Over the last 18 years, I have used content marketing to sell things and to attract clients. But the most important thing I've harnessed content marketing to sell is MYSELF!
That first book wasn't the product I was really selling. The real product was ME.
All of the interviews and blog posts attracted clients, because they were indirectly selling ME.
I love teaching, so teaching those workshops was great opportunity. And even though I was paid to present that content, what I was really selling was ME. (The same is true for the non-paid speaking opportunities I've done.)
The 21 Types of Content and the 51 Content Marketing Hacks were ideas I had to share with the world, but the thing they were ultimately doing was selling ME.
And finally, this chance to teach at UC Berkeley Extension is an opportunity I would've never imagined I'd have when I began this adventure 18 years ago. I am getting paid to teach this course and am excited to share some unique ways to think about marketing (really excited about it). But again, this is another opportunity for me to indirectly sell ME.
So as you leave today, I want you to remember that content marketing's greatest power is NOT in selling your products and services, or your goods and wares, but it's in selling and positioning YOU (and/or YOUR BUSINESS) in your market.
When you think about it that way, there aren't many other types of marketing that can have more impact on your life and your career!