"Before writing a word for the web, read Scott Aughtmon's new book. It will turbocharge your brain. Great book with great stories."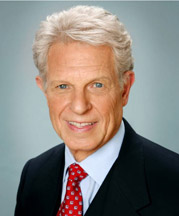 – Al Ries, author of the book War in the Boardroom, the classic, best-selling book Positioning: The Battle For Your Mind (with Jack Trout) and many other books. (Positioning was voted by AdAge as one of the 75 most important advertising ideas of the past 75 years.)
Tweet About 51 Content Marketing Hacks

Are You Just Creating More Fodder for the Online Content Wasteland?
Content marketing is a powerful tool that can help you to sell more and gain more customers. But if you think you can just post average "me too" content up there and see results, then you're fooling yourself. Check out this infographic from Column Five and Domo to see what you're really up against…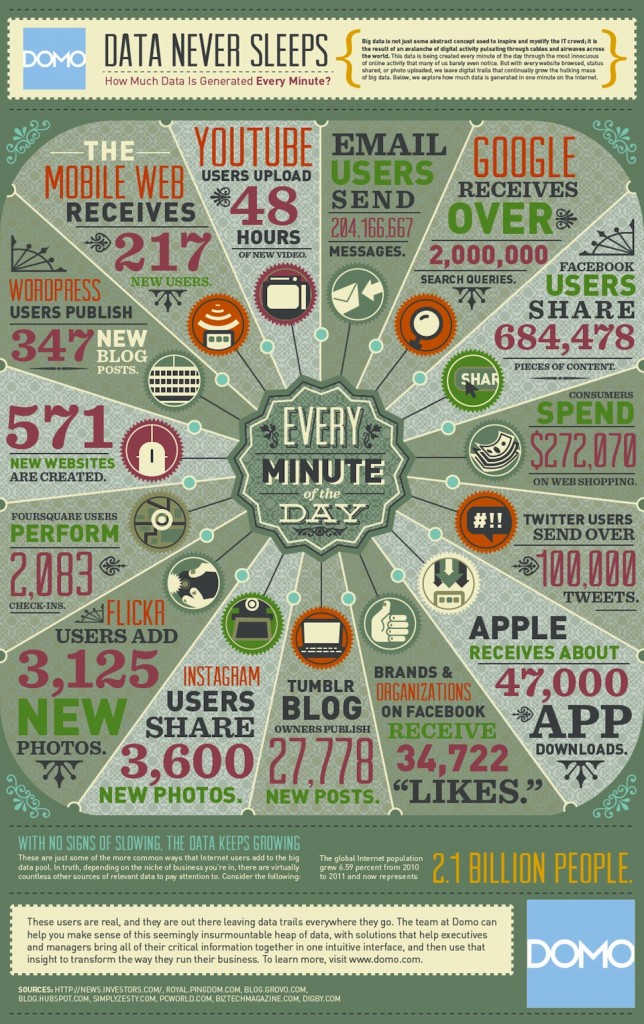 Unique Content in Demand More Than Ever
Online content was once a rare thing. But now it has become a commodity. You can't just post any-old, average content anymore and expect to see results. But that DOESN'T mean that content marketing and content creation are a waste of time. In fact, I would say it's needed more than ever. The good news is that even though content is now a commodity, unique content is in demand more than ever.   In fact, I'd say that if you're going to create content, then it has to be original. It has to stand out.  Otherwise it's a waste of time. But IF your content is engaging and original, then you will stand out from the pack and you will build a valuable audience made up of  prospects and customers. You'll go from chasing prospects to attracting them to you, your business, or organization. But you're probably wondering, "How do I create engaging and original content?"
Success Leaves Clues
One of the most powerful ideas I've ever heard was when I read these words, "Success leaves clues." That's powerful! Do you understand what that means? If you can learn the methods that someone else used to succeed, then you can do the same thing. Tony Robbins said in his best selling book Unlimited Power, "If you want to achieve success, all you need to do is find a way to model those who have already succeeded." My question for you is this: Whose success clues are you studying when it comes to content marketing? Without a proven content marketing model will be much harder for you to achieve! Where do you go to find those clues and proven content marketing models? I have a solution for you.
Amazon Reviews for 51 Content Marketing Hacks
I was able to get a preview copy of this book, and I loved it. This is an excellent resource for marketers or business owners that are trying to build an engaged audience over time. I love the simple use of companies employing content marketing strategies, and how any-sized business can implement simple steps to build a loyal readership.

Joe Pulizzi 

Joe Pulizzi, the founder of ContentMarketingInstitute.com the leading education and training organization for content marketing, which includes the largest in-person content marketing event in the world, Content Marketing World. He is one of the leading thought leaders behind the content marketing and social media movement. He is the winner of the 2014 John Caldwell Lifetime Achievement Award from the Content Council. Joe's third book, Epic Content Marketing: How to Tell a Different Story, Break through the Clutter, and Win More Customers by Marketing Less was named one of "Five Must Read Business Books of 2013" by Fortune Magazine.

 
There's no mystery to the basic mechanics of creativity. Take one idea from one context… combine it with a different idea from another context… and poof! Presto-changeo, you've got a brand new idea. Creativity, accomplished. Easily said. But when it comes to actually doing the above steps in the real world, most people hit a very thick brick wall. Why? Because the *how* of creativity remains an unfathomable mystery, to most people.

 

And this is where Scott Aughtmon's book really shines. He takes the wraps off the little-understood details of the process, by showing you, in simple steps anyone can understand, what to do and how to do it. He does this once… not twice… but 51 times.

 

That's important, because there is an epidemic of NON-creativity in most Web and print content that's designed to move a prospect closer to becoming a customer. To use what Scott shows you how to do, in your own content, can make a big difference in how much your customers spend and how long they stay with you.

 

I'm REALLY impressed by 51 Content Marketing Hacks. I will be recommending it to my private mentoring clients and even borrowing a handful of examples (with full attribution to Scott) in some of my own forthcoming books. Well worth getting, studying, using… and profiting from yourself!


Disclaimer: I received an advance review copy of this book. I was not compensated to write this review. I wrote it because I liked the book. What I wrote is pretty much the same as what I would tell anyone I know who asked me about the book.

 

 

David Garfinkel

David has helped people in over 100 industries make millions of dollars for their businesses with his copy, strategic marketing advice, and by teaching them how to write their own copy. (One of the prominent clients he currently works with is the copywriting team at Agora Financial.) He is known by industry insiders as "The Marketer's Marketer" because leaders in the field often call on David to help them solve their most thorny problems. He's author of Advertising Headlines That Make You Rich, and co-author, with Jay Conrad Levinson, of Guerrilla Copywriting. 
 Introducing…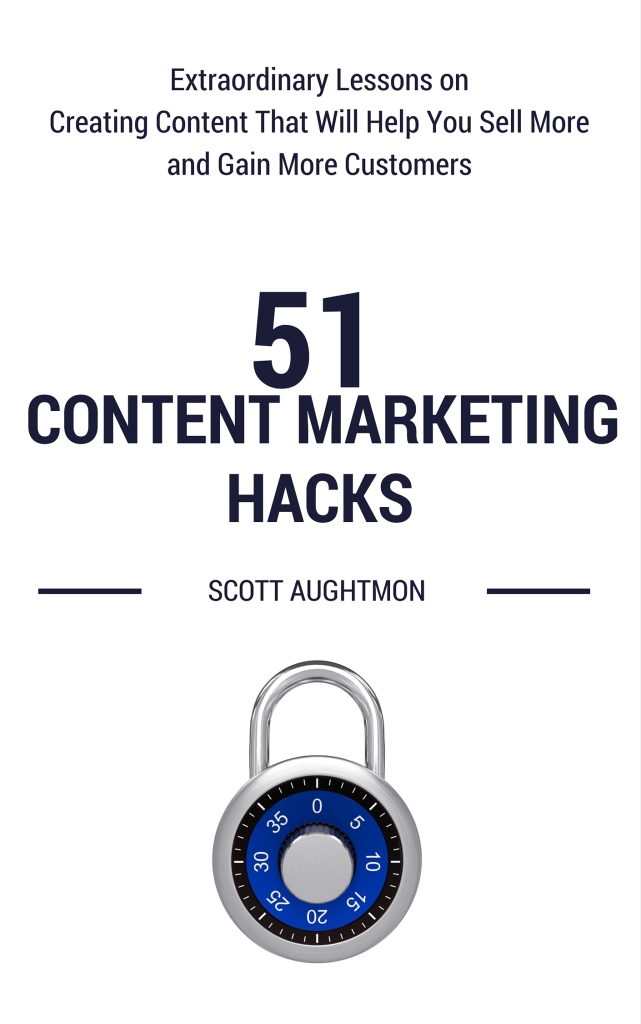 This ebook is a compilation of content marketing posts I've written over the last 4 years on ContentMarketingInstitute.com, LinkedIn.com, this site, and 12Most.com that reveal how you can tap into the amazing power of content marketing using successful methods that have been used in history, television, popular products, and more.
Table of Contents
A 213 Year Old Business Reveals Two Content Marketing Secrets of Today's Publishing Empires
 Nestle Toll House Cookies: Old School Content Marketing in Action
 6 Content Marketing Strategies Learned from the Hobbit
 6 More Content Marketing Strategies from the Hobbit Movie
 Content Marketing Lessons from Snow White
 Is NBC Using "Ninja" Content Marketing To Promote The Olympics?
 5 Types of Content Marketing to Continuously Attract Prospects
 5 Ways to Make Your Content Marketing More Memorable
 4 Illuminating Lessons from One of History's Most Inventive Content Marketers
 Content Marketing and Its Overlooked Ability to Influence Customer Experience
 How Do You Come Up With New Content Marketing Ideas? You Might Not Really Want To Know.
 Did You Know That America's Favorite "Green-Bean Casserole" Came from Content Marketing?
 How to Come Up with Great Content Marketing Topics: 3 Lessons from the Early 1900s
 Content Marketers: An Eye-Opening Lesson on Re-Purposing Content from Disney
 Latest Content Marketing Sighting: Honda Uses Ok Go's New Video "I Won't Let You Down"
 Magician David Blaine and the True Magic of Content Marketing
 Monsters University and a Creative Form of Content Marketing
 Could This Be the MAIN Secret of All Effective Content Marketing?
 How Compound Content Marketing Has Kept Star Wars Popular
 Content Marketers: How to Exploit Patterns to Effortlessly Produce Powerful Content
 The Power of "Content Collaboration" As a Content Marketing Tool
 Article Writing: A Subtle and Important Form of Content Marketing
 The Secret Behind the Real Purpose for Magazines That'll Make Your Website or Blog More Effective
 NBC's "American Dream Builders" and Content Marketing on TV
 Empathy and the Power of Content Marketing Focused On Others
 How Walt Disney Used Content Marketing to Launch and Finance Disneyland
 12 Most Effective Ways to Create Irresistible Content
 Disney's Content Marketing Technique Used to Promote "Carsland"
 A Father's Dream That Impacted the World and an Overlooked Content Marketing Form
 Popeye and the Impact That Accidental Content Marketing Had On the Spinach Industry
 Content Marketing Strategies of the 7 Media Giants
 The 4 Commandments of Socially-Created Content
 The Content Strategy that Made Justin Bieber a Star
 Without This All of Your Content Marketing, Products, and Services Are Useless
 GEICO's Bold Content Marketing Move: A Book from a Gecko
 He-Man's Content Marketing Secret and 3 Lessons for Your Business
 Game Apps for Cats and the Reason You Should Use Content Marketing
How Trader Joe's Uses Content Marketing To Keep Customers Coming Back
5 Content Marketing Lessons from National Cinemedia's Pre-Movie Show "FirstLook"
Content Marketing Lessons from the Cake Boss
The 2 Critical Ways to Make Your Content Marketing Stand Out
How General Foods Used Content Marketing to Make German Chocolate Cake Popular
Content Marketing and a New Purpose for Books
Content Marketers: Think Like Steve Harvey
How People Limit the Value, Usefulness, and Portability of Their Content Marketing
The Little-Known Content Marketing Deal That Sears Made With Extreme Makeover: Home Edition
How an Artist, a Journalist, and a Failed Government Official Used the Power of Words to Change the World
You'll Learn Lessons From:
First English bookstore on the European continent
NBC's coverage of the Olympics
NBC's "American Dream Builders"
Some of What You'll Learn:
Two Content Marketing Secrets of Today's Publishing Empires
How to make your content memorable
How to come up with new content marketing ideas
How to come up with great content marketing topics
Lessons on re-purposing content from Disney
The main secret of all effective content marketing
The power of compound content marketing
How to exploit patterns to effortlessly produce powerful content
The Power of "content collaboration"
The unique benefits of writing articles for publications
The real purpose for magazines
How to harness the power of empathy
12 most effective ways to create irresistible content
Content marketing strategies of the 7 media giants
How to use socially-created content
How people limit the value, usefulness, and portability of their content marketing
The 2 critical ways to make your content marketing stand out
I've provided you with 48 chapters that contain 51 content marketing hacks so that –  when it comes to content marketing – you will never have to worry about finding "success clues" again.
Tweet About 51 Content Marketing Hacks

Another Amazon Review of  51 Content Marketing Hacks
Scott sent me an advance copy of the book when he saw my article on content marketing hacks.

 

But in this book, Scott takes it to a whole new level. He provides practical tips on how just about anybody in any business, large or small, and no matter what industry you are in, could start generating amazing results.

 

I highly recommend this book to anyone interested in reaching a new audience of potential customers with valuable content and without breaking the bank.

– Micheal Brenner

Michael is the Head of Strategy for the leading content marketing platform NewsCred. Previously he held marketing leadership positions at SAP as VP of Global Marketing and Content Strategy and Head of Digital Marketing for SAP Americas. He is the co-founder of leading social news site Business 2 Community and also created SAP's award-winning Business Innovation thought leadership blog site. He is also a contributor to leading publications such as Forbes, The Economist, and The Guardian and is a frequent speaker at industry events.
51 Content Marketing Hacks in Two Formats
I have created this book in two formats, so that anyone can access this information. The two formats are:
1. .PDF format (256 pages)
2. Kindle version
Special $56 Bonus for Everyone
If you purchase the .PDF version of this book, then you'll automatically receive this bonus. If you purchase this from Amazon to read on your Kindle, then you just need to forward me your receipt as "proof of purchase" and I will send you access to my The 3 Keys to Increased Focus, Efficiency, and Creativity video recording (screen capture) valued at $56. Just forward your receipt to recessionsolution (at) gmail.com with the subject: "Bonus for 51 Content Marketing Hacks".
The 3 Keys to Increased Focus, Efficiency, and Creativity Explained
The "3 keys" are three things that will help you to tap into the creativity that you need to create effective content marketing. These three simple things are not something I made up. I discovered them.
The first key is something that many of the "Greats" from the past implemented daily in their lives.
The second key is based on an ancient concept which was unknowingly implemented by one of the greatest thinkers of the 20th century.
The third key is based on a mindset that both modern productivity experts and an ancient group of people agree upon. Click here to learn more about the "3 Keys".
Choose the Version You'd Like

If you'd like to buy the .PDF version of 51 Content Marketing Hacks, for $9.99. Click here!

If you'd like to buy the KINDLE version of 51 Content Marketing Hacks, for $9.99. Click here!

Money-Back Guarantee
*If you're not satisfied for any reason, or if this ebook does not help you in your situation, then please contact me for a refund.
One More Amazon Review of  51 Content Marketing Hacks
Scott Aughtmon is a skilled writer and content marketer. He uses his breadth of experiences to help us all by sharing helpful, pragmatic and actionable lessons we can all learn from and apply to be better at engaging our audiences with content that matters. Great book, easy read, insightful content.

– Sandra Zoratti

Sandra is a proven global marketing executive. Previously she was Vice President of Global Marketing at Ricoh. She is the CMO and co-Founder The Marketer Network and is the current President of the Colorado Business Marketing Association. She is also the author of Precision Marketing and received the 2012 "Marketer of the Year" award from Business Marketing Association Colorado.
Click here to see more testimonials on Amazon.