What would you do if you were put into this situation?
You are snatched from your current company and placed at a company in another city where you have to start all over again. 
You've been hired to run their marketing. It's a medium-sized operation. They are doing ok, but they've hit a wall.
They need more momentum, but they don't have a big budget for marketing or advertising. 
They want you to use marketing to build this company, so that it will bring in more customers regularly and at a low cost.
You have decided that creating content to attract prospects is the best way to go, but this company has tried content marketing and didn't see much ROI from it, so they are doubtful it will work.
Still you believe this is the best option.
Where would you start?
How would you decide what content to create?
What would you do to make sure that your content gets seen and consumed?
More importantly…
How would you create content that gets shared on social media and is linked to?
How would you create content that would ATTRACT prospects to your company instead of having to continually CHASE after them?
Who I Am 
My name is Scott Aughtmon. I am the author of 51 Content Marketing Hacks. I am a regular contributor to ContentMarketingInstitute.com and I am the person behind the popular infographic 21 Types of Content We Crave.  
Personally, I have used content marketing to:
Establish myself as an expert in multiple niches

Build an audience

Get hired to speak

Get hired to write

Sell products and services

And more
In fact, I have been using content marketing long before I even heard the term.
Over that time, I've developed to ability to communicate ideas and concepts in a way that stands out, is shared, and is attractive to prospects.
Here are what two top experts have said about the content I create… 
"Scott has consistently been one of our top authors at the Content Marketing Institute. His posts are timely, fact-driven and almost always drive a high-level of discussion. Scott's "21 Types of Content We Crave" infographic post on CMI was one of our most popular posts of the year!"

– Joe Pulizzi
Founder of ContentMarketingInstitute.com
Author and Speaker | Founder of Content Marketing World
One of the leading thought leaders behind the content marketing and social media movement

---

"Scott Aughtmon is an amazing writer. He's contributed truly creative and unique posts to B2B Marketing Insider that have driven an incredible amount of traffic, engagement, and social shares. His posts have discussed one of the earliest examples of content marketing, and the secret ingredient to content marketing success. I can't wait for his next submission."

–Michael Brenner
Ranked #2 in the list of the Top 50 Content Marketing Influencers
Head of Strategy for NewsCred | Former VP of Content Marketing at SAP
Founder of B2BMarketinInsider.com
That Imaginary Situation Is a Widespread, Common Problem
There are many companies that still have no clue about content marketing. There are many others who have tried to use content marketing, but have seen little to no results or ROI.
And the companies that are having this problem aren't just medium-sized companies like the one in the imaginary situation I presented to you at the beginning. 
This is a common problem for companies of all sizes that are trying implement content marketing. And because of this problem, many of these companies are wondering if content marketing really works or not. 
I want you to know that it does work and there are many companies that could attest to this fact. But, just like with any tool, you have to know how to use a tool effectively in order to see the best results. 
(See this post that I wrote called The Law of the Tool: Why Some Struggle So Much with Their Content Marketing to learn more about what I am talking about.)
To see new results with their content marketing, they need:
A more focused content marketing approach (Creating content just to create content will not produce results.)
A way to discover the content that their prospects want to consume
A way to create content that stands out from the other content that is out there
A way to exponentially increase the reach of their content
After thinking about this problem, I realized that people need a new paradigm for content marketing. They need a new way to see the real purpose of content marketing. Why?
Because once they really understand the basic, core purpose of content marketing, then they will begin at a different starting place.
And not only that, but they will realize they need to go through a different process in order to produce powerful content marketing that produces better results and more ROI.
A New Way to Think About Content Marketing
After thinking a lot about this, I have come up with a new way to think of content marketing that I believe can really help business to answer these questions:
Why isn't content marketing working for my company?
What are we doing wrong with our content marketing?
What is content marketing really all about anyway?
This new way to think about content marketing is something I'm calling "Question Directed Content Marketing".
You can sign-up below to watch my free video 12 minute video that explains this new way of thinking about the basic core purpose for all of the content you create.
It also gives you a new mindset and paradigm for your content marketing that will help you to begin using it in a more effective way.
And finally, this free video will help you to begin creating content that will allow you to stand out from your competitors.
Wait… Why Wouldn't You?
If you are hesitant to sign-up to watch the free video above, then let me ask you one question…
If you really want to find out why your content marketing isn't working or what you need to do to fix it, then why wouldn't you take 12 minutes to watch this FREE short video?
You have nothing to lose and everything to gain!
(Scroll back up to sign-up.)
Introducing "The 4 Steps to Successfully Implement Question Directed Content Marketing"…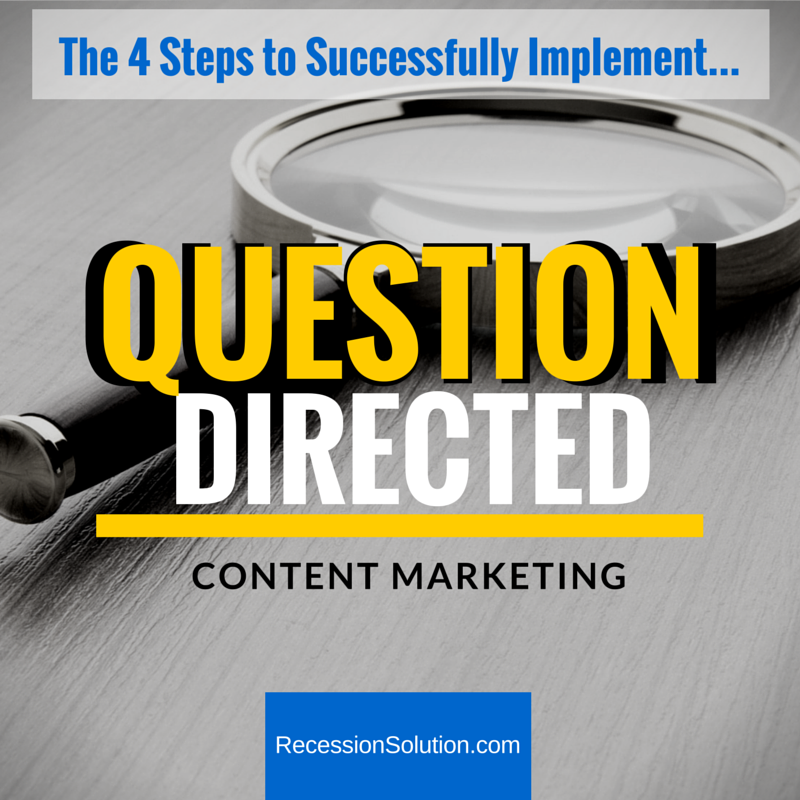 I recently decided to do a webinar a teach the four steps that you need to use if you want to successfully use "Question Directed Content Marketing." I announced it and 7 days later I revealed these four steps to a small group.
On this 55:32 minute webinar I revealed:
The 2 steps you need to implement that are focused on your prospects
The 2 steps you need to implement that are focused on your content
The first common mistake most businesses make when they create content
The 4 powerful things that will happen when you take the first step focused on your prospects
What your "I.C.C." is and why it is so important for you to have on your mind when creating content
Two types of tools you can utilize when you are discovering what content to create
The "5 Es" of powerful content marketing are and why you need to use them if you want to create content that stands out
The most powerful tool you can use when crafting content
You'll learn why my 50th Content Marketing Hack (from my book 51 Content Marketing Hacks) is so needed to help your content have an exponential impact

And much more
These are 4 things that were my "personal favorites" from the information I shared…
The analogy of "tuning in" that I used to explain the common mistake most businesses make when creating content. (They are tuned in to the wrong "station.")
How one of the most cited financial works in the 20th century got its start as content marketing. (Not only that, but it was content marketing based on a "Question Directed" approach.)
The thing that water and effective content have in common, which will allow your content to have an exponentially greater impact. (Plus, it will allow you to create less content and still see a bigger impact.)
Plus, I really enjoyed the Q & A session at the end of the webinar. I was asked some questions that allowed me to talk about some of my personal methods for creating engaging content.

One Attendee's Testimonial About "4 Steps…"
How Much Will It Cost?
I wanted to come up with a fair price to ask for this recording that would be affordable for any company – especially one that's actually experiencing the imaginary situation I started with.
I figured, if you went to a marketing conference you could pay from $1400 $2000 – plus travel costs, a hotel room, and food.
You'd pay $500 (minimally) if you hired me for a one-on-one consulting call. 
But because this is digital download, I decided I'd give you access for just $197.
(*NOTE: If gaining one new customer wouldn't easily make you back this amount of money, then I would encourage you to pass on this offer and NOT purchase this.)
I figure that this is a fair price for you, it doesn't cheapen the time and effort that I put into it, and yet doesn't place it at a suspiciously low price.
What Do You Get?
Here's is some of what you'll get for this low price:
You'll now know the common mistake most businesses make when they create content, so you can now avoid it from this day forward.
(You'll do this by "tuning in" to the right "station" and avoid the wrong one – the one which companies who are struggling with their content are all tuned in to .)
You'll know four simple steps you can take which will help you to fix your content marketing and improve its ROI.
This will allow you to begin to experience 4 powerful things that will happen when you take the first step focused on your prospects.

You'll know how to harness the power of two types of free tools that can allow you to ETHICALLY eavesdrop on your prospects and your competition
This will enable you to create content that reaches, and resonates with, the right prospects.
(*You'll now know how to

speak a language that attracts your ideal prospects

.)
You'll know 5 things that you can immediately add to your content marketing, so your content will stand out from the "sea of sameness" that most of your competitors are drowning in.
You'll understand the most powerful tool I use when crafting engaging content that gets shared. And you'll know how to use it effectively.
You'll know how to use my "50th Content Marketing Hack" (from my book 51 Content Marketing Hacks).
(This will allow you to take your current content that you've already created and make it have an

exponential impact

!)

And much more
You'll Get the Answers and Solutions You Need in Multiple Formats
For that one price, here is the complete package of everything that you will receive:
The 55:32 minute video of the webinar
The 55:32 minute audio of the webinar
The .PDF of my unedited notes from the webinar
This will give you 3 ways that you can consume this important information that will help you to learn these important steps that you need to take to harness the power of "Question Directed Content Marketing."
Plus, you can have access to the recording instantly, at anytime, 24/7/365.
It doesn't matter what time of day it is, even if it's 1:53am. 🙂
(And don't forget. You can share it with anyone on your team at no extra cost.)
Bonuses:
During the live webinar, I had a great time answering questions from the people who attended. The question and answer time went so well that it went for 27:31 minutes! During that time, the participants asked some great questions. 
Here are some of the questions that I answered during the Q & A time:
"You are a great natural storyteller. Did you have to study it a few times to get it?" 
"Do you have a succinct story structure template?"
"How detailed is your editorial calendar? In other words, how far in advance do you plan?"
"What are the best books you've read to get your head around storytelling – business storytelling?"
"What's the most important 'device' at the beginning of a piece of content that captures their attention? How do you keep the engagement from paragraph to paragraph?"
Q & A Bonus Sessions
Even though you missed being a part of this live Q & A session, I thought you'd still want access to it.
So as a bonus you will receive:
A video recording of this Q & A session that you can watch to at any time
An audio recording of this Q & A session that you can listen to at any time
Additional Bonus
I want this to be as helpful for you and your company as possible.
So, as an added benefit, I'll allow you to share these recordings with anyone else who is a part of your team. 
That means you don't have to pay for each of those people, like you would if you were attending a conference. (*I just ask that you please don't give it to anyone outside of your company.)
Another Attendee's 

Testimonial About "4 Steps…"
"Scott Aughtmon's webinar 4 Steps to Question Directed Content Marketing is an excellent guide to creating custom content that will resonate with your specific audience. He presents actionable ideas that you can readily use to move forward on your own content marketing plan.  Highly recommended for any entrepreneur or professional looking for new ways to reach their target market."

— Mary Ellen Landolfi
The Write Room, LLC
www.thewriteroom.com
Click the button below to get access now to the webinar recording, the audio from from the webinar, the .PDF of my notes and the bonuses for

only $197. 


ABOUT THIS SECURE ORDERING
I use ClickBank. It's one of the most trusted and secure online retailers available. All information sent to ClickBank is encrypted (using strong 128-bit encryption) and is not disclosed to anyone, not even me!
My Promise To You: It's Risk-Free!
Look, I don't want you to feel like this purchase is a risk for you to make, so let's make a deal.
If you don't:
Discover new ways to think of content marketing that help you to create content your prospects are looking for
Learn powerful methods that you can use to create more interesting and engaging content
See a change in your content marketing results after you apply these 4 steps
…then please ask me for your money back! I'll give you a refund right away.
I don't want to keep your money if you don't feel you got "your money's worth."
But I really believe that if you watch this recording and then apply what you learn, then you will:
Have a new confidence about creating content that your prospects crave
Have a new ability to create content that stands out from your competition
See new results from your content marketing
By the way, please contact me and let me know what the results are. I'd love to hear about them.
(*If you buy the recording, but don't watch it or apply what you learn, you won't see any results. So if you don't plan on doing anything new / different, then you shouldn't purchase this.)
Let me know if you have any questions. 
Thanks for taking time to read this.
Learn, Work, Succeed,
Scott Aughtmon
P.S. You can watch a free 12 minute introductory video here. If you haven't watched it yet, then you should. It will give you a basic understanding of "Question Directed Content Marketing" that you can begin applying right now.
P.P.S. You can also read this blog post The Law of the Tool: Why Some Struggle So Much with Their Content Marketing to learn about the common problem we all have with using a tool we don't know how to use well.
Photo by @boetter
Disclaimer: ClickBank is the retailer of products on this site. CLICKBANK® is a registered trademark
of Click Sales, Inc., a Delaware corporation located at 917 S. Lusk Street, Suite 200,
Boise Idaho, 83706, USA and used by permission. ClickBank's role as retailer does not
constitute an endorsement, approval or review of these products or any claim, statement or
opinion used in promotion of these products.